At Movable Ink, we commit to building a culture of inclusivity and broadening ourselves as we learn from one another. We have multiple employee resource groups that are integral parts of our company culture, including Movable Pink, our employee resource group that provides women, non-binary folks, and allies of Movable Ink with a community for camaraderie, empowerment, and a resource for personal and professional growth.
We recently launched a blog series to highlight some of the incredible women who work across all of our global offices and departments. And as our teams make the transition to working remotely, we're excited to keep the series going. Today, we're proud to feature Kiné Brown, a filmmaker and bodybuilder who has inspired our global team and is responsible for the culture of our San Francisco team.
Start the day with exercise, journaling, or mindfulness meditation. These moments are for you, to connect with you. Not to plan how your day is going to be, but rather to allow yourself to be present in what comes.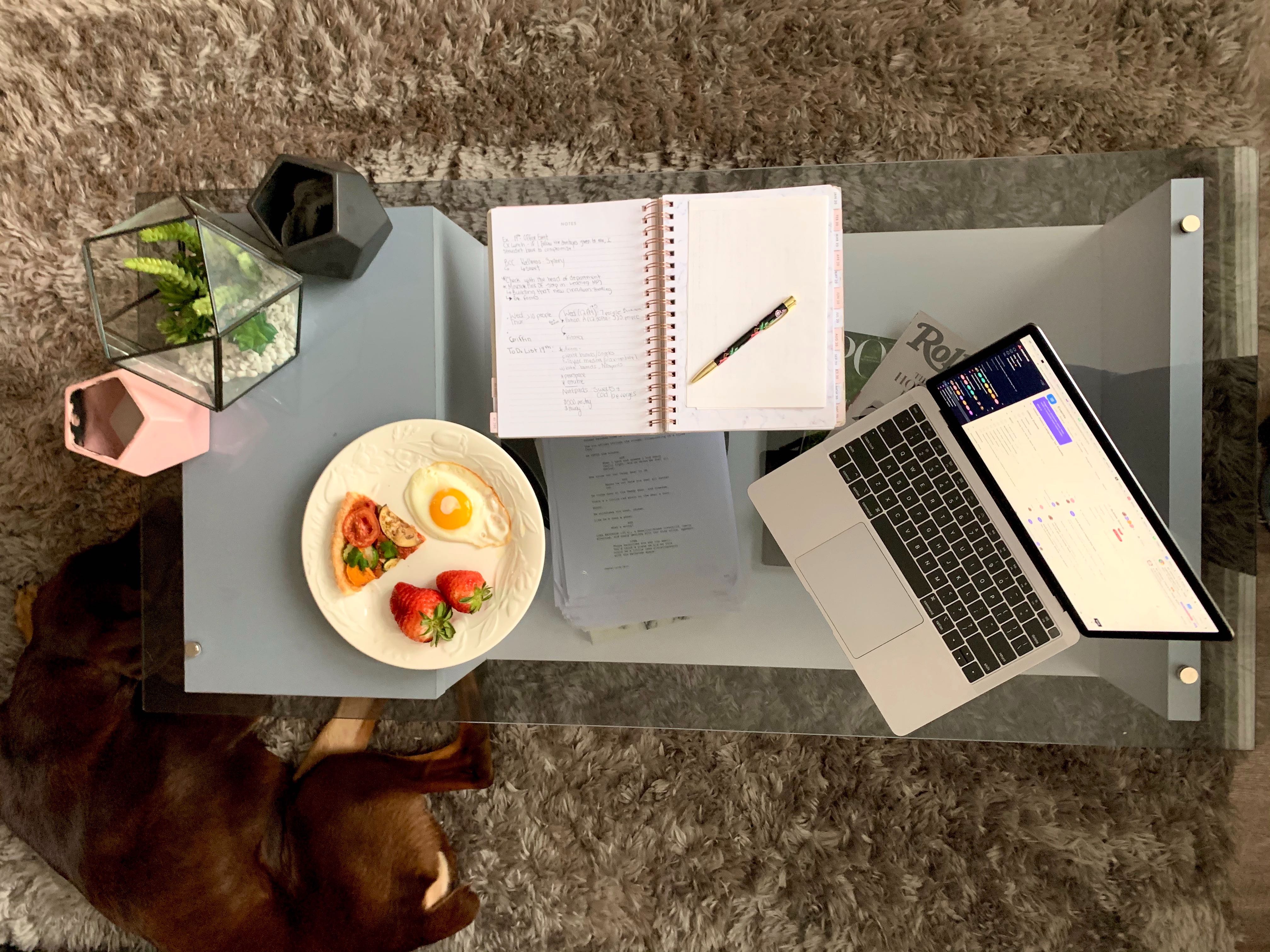 Kiné's work-from-home setup
How long have you been at Movable Ink, and what makes you excited about your role?
I'm the office coordinator for our San Francisco office. Essentially, my role is to oversee the location and create a vibrant culture for our California-based employees. After 9 months at Movable Ink, I can say that what makes this role exciting is the places it has taken me, the events I've helped put together, and the people I've created bonds with along the way.
What does Movable Pink mean to you as a resource?
When I first started, the San Francisco chapter of Movable Pink went out to lunch and we all had time to sit together and chat. I remember thinking "No way everyone is this nice and welcoming." I really couldn't believe it. Having Movable Pink as a resource is unlike anything I've experienced before professionally. Coming from male-dominated fields, I wasn't used to seeing a lot of women, let alone women of color. Movable Pink is special because we celebrate each other's differences, and we care about what everyone else has to say. Every woman contributes to Movable Pink in some way, and in return, Movable Pink is able to reach out and continue to be a great resource to many.
Describe the highlight of your time working at Movable Ink.
Working with my team has been the highlight of my time at Movable Ink. When I first started, I was quite surprised to find out that the office team and operations department were so spread out and I wondered how we'd move forward. But they seamlessly integrated me into the team. They were thoughtful and thorough when I had a million questions, patient when I made mistakes, and they've been the best sounding board for my concerns. The support system I have received from Movable Ink is something I'm really grateful for.
I've been here for nine months and have been pushed in many ways. Between maintaining day-to-day operations, planning office events, assisting with private events, collaborating with IT and onboarding. The amount of effort and energy put into planning and executing events at Movable Ink is highly rewarding! But one amazing thing Movable Ink has done is allowed me to still stay creative. I was able to be one of the videographers for the Hackathon video, helped create the first ever company yearbook, and even presented at our company kickoff. 
What are some professional milestones that you're proud of?
I graduated from a performing arts high school, majoring in Theatre. While I was there, I co-directed/wrote the school's first student-directed Black History Show. That's where I began my adoration for theatre, writing, photography, and the arts as a whole.
I then went on and got my BFA and MFA in Screenwriting at a Conservatory School. I wrote feature-length scripts, shot my own short films on the Universal Studio Backlot, and participated in our Screenwriting Pitchfest; pitching to Los Angeles film and literary agencies. While at school, I completed internships with Executive Producers of titles like ROOTS,  Hap and Leonard, and my MFA internship was with an organization that's a branch of Warner Bros. TV. I also began working as a Production Assistant and worked on film sets, music video sets, and commercial sets. After graduation, I became the Office Coordinator for a Media Localization Headquarters, finding myself overseeing an office culture with 300+ employees all on my own. It was incredibly challenging, rewarding, and showed me just what hurdles I could overcome. 
What are you excited about for 2020 as it relates to Movable Ink?
When I started at Movable Ink last summer, I began to look at media and technology through a different lens. To be honest, what has been created here is quite rare. The quality of people, the quality of dedication and drive in each team, the quality of care. I haven't seen anything like it before, and what it has done has caused a ripple effect on the whole entire company. In 2020, I'm looking forward to continuing to make Movable Ink a place where people are actually excited to come to work (whether that's remotely or otherwise), excited to get involved, and excited to watch the company grow.