An innocent email forwarded by one of our Sales Directors, Chris Tucker, set off a chain of unfortunate reply-alls. Chris shared an article that made him come to the shocking realization that he's been mispronouncing "GIF" (the acronym for Graphics Interchange Format) all his life, which caused him to react as follows: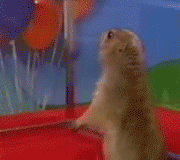 Below is the geeky office banter that ensued:
Michael Nutt, Co-Founder and CTO: "GIF" as in "gift" forever!
Vince PeGan, Customer Success Manager: GIF for life, no peanut butter.
Alison Lindland, Customer Success Manager: Just don't look a GIF horse in the mouth.
Vivek Sharma, Co-Founder and CEO: Ok, ok… enough. GIF me a break, I'm trying to get work done.
Olivier Lauzon, Senior Engineer: This is a GIF that keeps on giffing.
Jason Valdina, VP of Product: Forgif me for asking this, but how do you pronounce "JPG"?
Matthew Potter, VP of UK and EMEA: Never known a bunch of people could get so 'animated' over GIFs.