Sometimes, when you do research and you notice something that's really striking, you just have to GIF it. This is one of those moments. We've been researching how US consumers use their mobile phones when it comes to emails since early 2013 and just completed our latest US Consumer Device Preference Report for Q4 2014.
This time around, we noticed that the trends that were emerging in 2013 fully took hold in 2014 – the most popular mobile device kept getting more popular, the attention spans of people on different devices continued to crystalize, and desktop email opens continued to dwindle.
What really struck us about 2014 was just how dramatically people across the country are adopting mobile devices and using them as the go-to way to access their emails.
We put together a GIF to help show that adoption rate in action: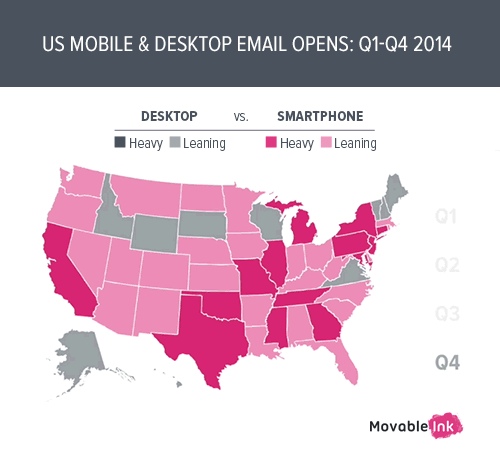 As we can see, there was a spike in adoption at the beginning of the year, probably when people were trying out new devices from the holiday season and traveling for vacation. From there, mobile email use falls a bit, but starts growing rapidly in Q3 and Q4.
By the end of 2014, only nine states were more prone to opening emails on desktops, and only slightly. Every other state in the country has officially become mobile-first when it comes to email. At this rate, we fully expect that, by the end of 2015, mobile devices will be the first way people check their emails in every state.
Want to see all the findings from our mobile email research report? Download the US Consumer Device Preference Report for Q4 2014 here: