Over the 2015 holiday season — from Black Friday through the first week of the new year — we've been tracking consumer email behavior across industries, while keeping a close eye on the retail audience. We wanted to see which devices holiday shoppers used most often to open emails, as well as which they were more likely to click-through on to make a purchase.
Because understanding how customers access and interact with your emails is essential to your success, this information can help inform your campaign during the next busy shopping season.
First, let's take a look at the week after Christmas — 12.28.15 through 1.3.16.
Email opens stay the same: Dec. 28 — Jan. 3
Mobile opens continue to hover around 70% (71% for the week).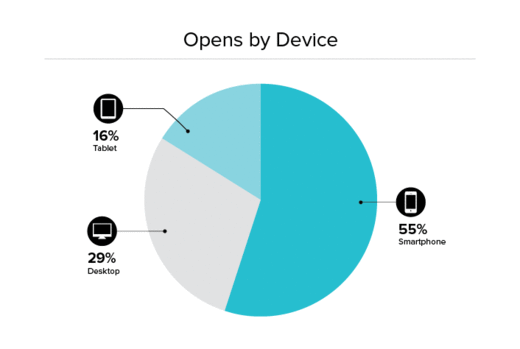 Industry-wide conversions shift slightly back towards mobile: Dec. 28 — Jan. 3
Mobile gained back 4% of industry-wide conversions — at 47%.
Retail conversions go 50-50: Dec. 28 — Jan. 3
Although we saw a preference for desktops in retail conversions during the holidays, mobile accounted for half the week after Christmas.

A look back on the season
What are the takeaways to our experiment? Device preferences for email opens in general stayed pretty steady over the holiday season — hovering around 70%. This was only a slight increase over the recent average, as mobile accounted for 67% of all opens in Q3 of 2015. We did see a spike in retail opens — going as high as 90% for the retail apparel industry at one point.
The holidays also proved that while mobile optimization for emails should still be a top priority, desktop activity is not dead. Even though holiday shoppers are typically on-the-go, the retail industry saw a bit of a shift back to desktop for conversions, even for retail apparel shoppers who typically use mobile devices for purchases.
But immediately after the week of Christmas, we saw mobile conversions begin to increase — suggesting post-holiday sale shoppers and gift card redeemers are more in the mood for mobile. The best way to cover all of your bases is to leverage device detection to ensure emails are rendering appropriately for each respective platform.