With 66 percent of email opens now taking place on smartphones and tablets, the age-old click-through rate should be taking second fiddle to the "tap-through rate" as email marketing's most coveted KPI. With that said, we still see too many marketers optimizing for desktop clicks while ignoring mobile taps. This results in poor user experiences and lost opportunities.
Here's a prime example from LinkedIn (sorry to pick on you LinkedIn, but this needs to be said.) I'd wager to say that LinkedIn enjoys a high mobile app download rate among its business users, but its mobile email experience is completely broken. LinkedIn sends a ton of email trying to drive engagement — from connection requests, to "who's viewed your profile" notices, to notifications when your connections get new jobs or post something interesting. But clicking through on a mobile device opens a web browser instead of your already-installed app, forcing you to enter your login credentials and undoubtedly leading to incremental drop off.
Which leads us to… Tip #1: Deep Link to Mobile Apps Deep linking removes friction from the mobile email experience by enabling consumers to launch installed mobile apps and specific pages within apps. This makes it easier to complete actions — and transactions — on mobile devices. Here's an example from eBay where one tap on an image of a sandal in an email leads to firing up the eBay mobile app and the product that the user wants to see.  With one more tap the item can be added to the user's shopping cart and one tap later, purchased and shipped since the user's billing information and address are already stored securely within the app.
Tip #2: Let Users Tap to Call Users who are on the go and have questions about your products or services that might be easier to answer over the phone than via a mobile app or m-site can be given the option to tap to call via real-time device targeting.  It's as simple as adding a tap-to-call banner to the smartphone version of your email template.  Here's an example from TheKnot showing the desktop version adjacent to the smartphone version with the tap to call banner at the top of the message.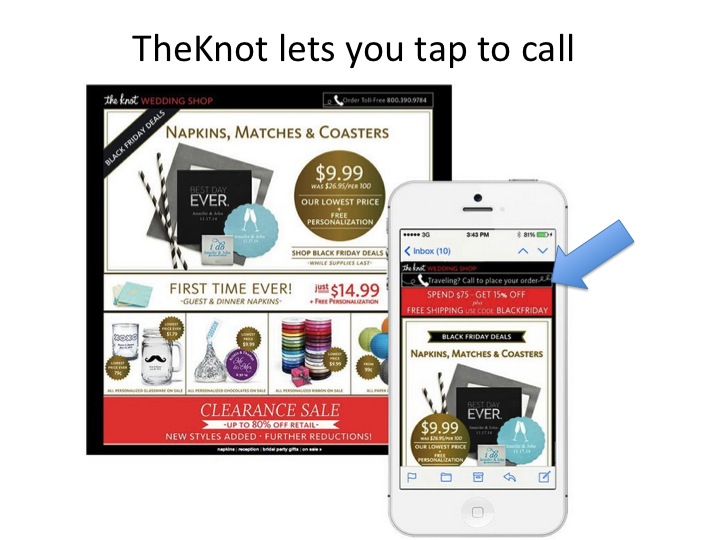 Tip #3: Get Users Social Sometimes your most desired next tap might be getting users to spread the love about your brand or products on Facebook, Twitter, Instagram or other popular social networking apps, which account for some of the most widely downloaded apps in the world and can be counted on to be installed on their smartphones and tablets even when your own app isn't. Deep linking technology can be used to launch third party applications, and you can even include a pre-populated message for users to share. Here's an example from Comedy Central that got thousands of its subscribers tweeting to promote a new show — and it only took two taps for them to do so.
Mobile email opens keep rising as a percentage of total opens each quarter, and while smartphone opens may be stabilizing at a little under 50%, tablets continue to eat away at desktop market share and aren't showing any signs of relenting.  The time to optimize for tapping through instead of clicking through is now.
***
*For more tips and case studies featuring mobile email tap-through rate optimization, check out the recording of our recent webinar, "The Mobile Takeover".